. 
Many of the monochrome illustrations below have been taken from: "Some Outstanding Clocks over Seven Hundred Years" by H. Alam Lloyd, Leonard Hill Books, 1958. Or from: "Thomas Tompion, His Life & Work" by R.W. Symonds, B.T. Batsford Ltd, 1951
EQUATION CORRECTIONS - Part 1
a)
PRINTED TABLE OF THE EQUATION ATTACHED TO (OR SUPPLIED WITH) A CLOCK OR WATCH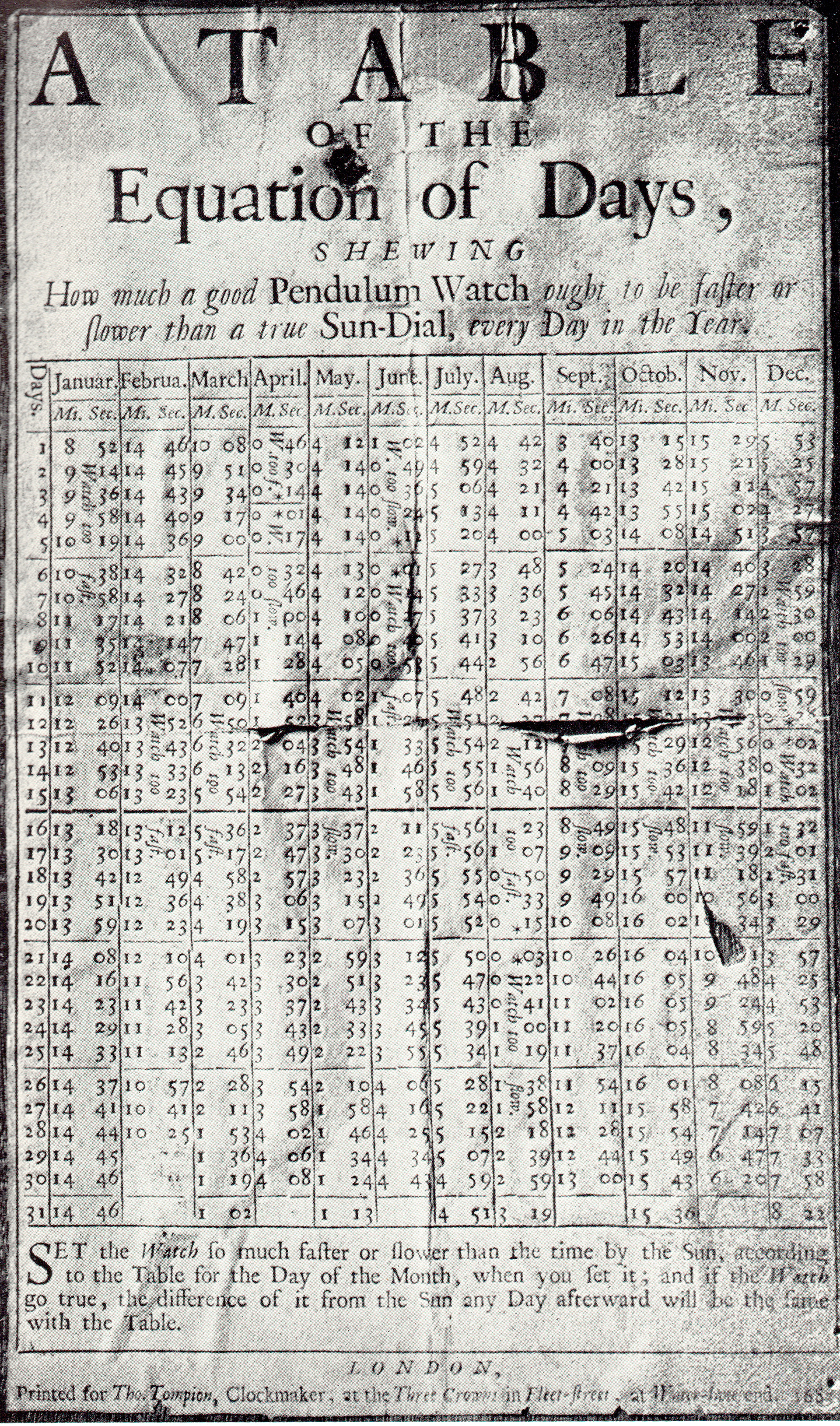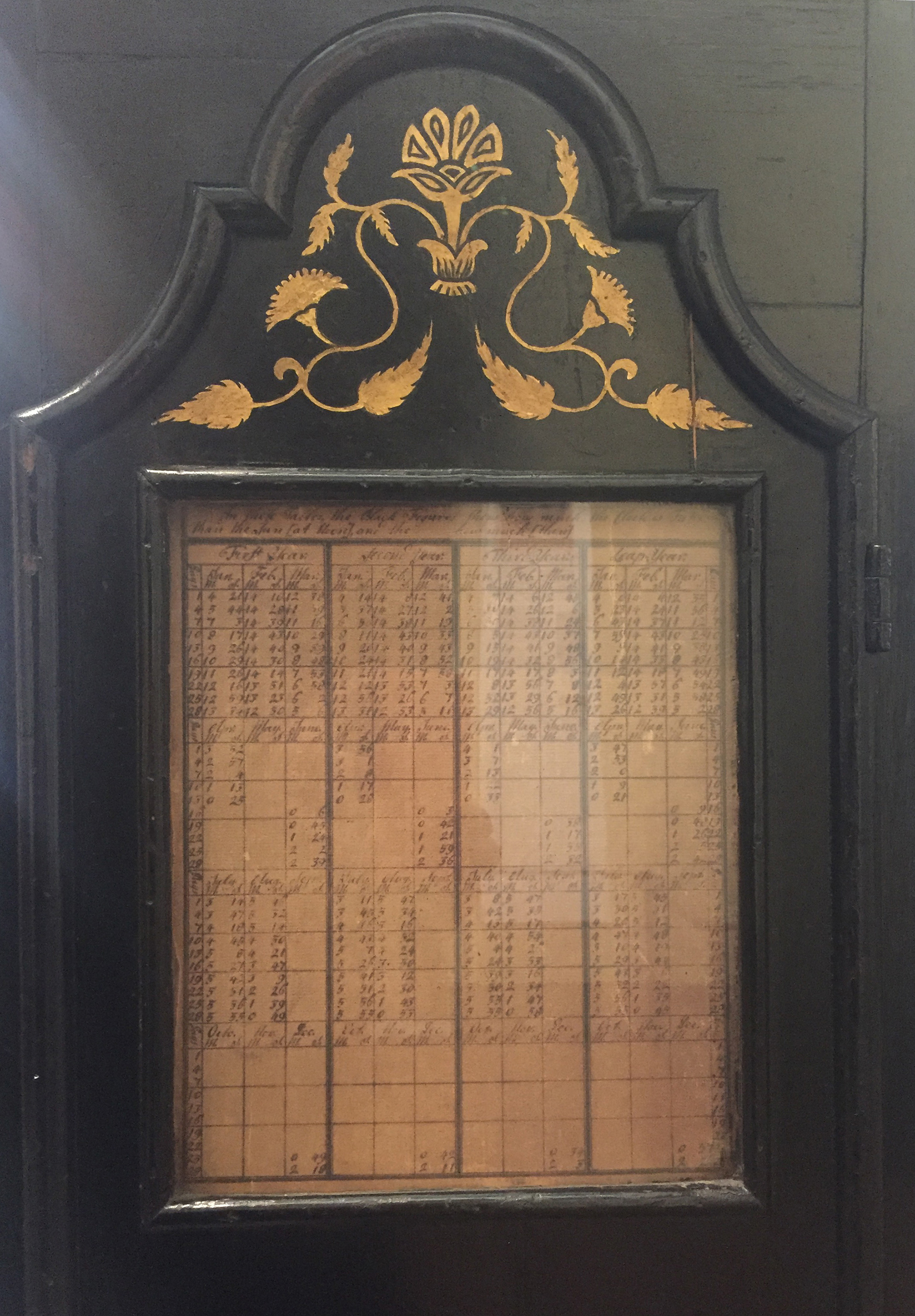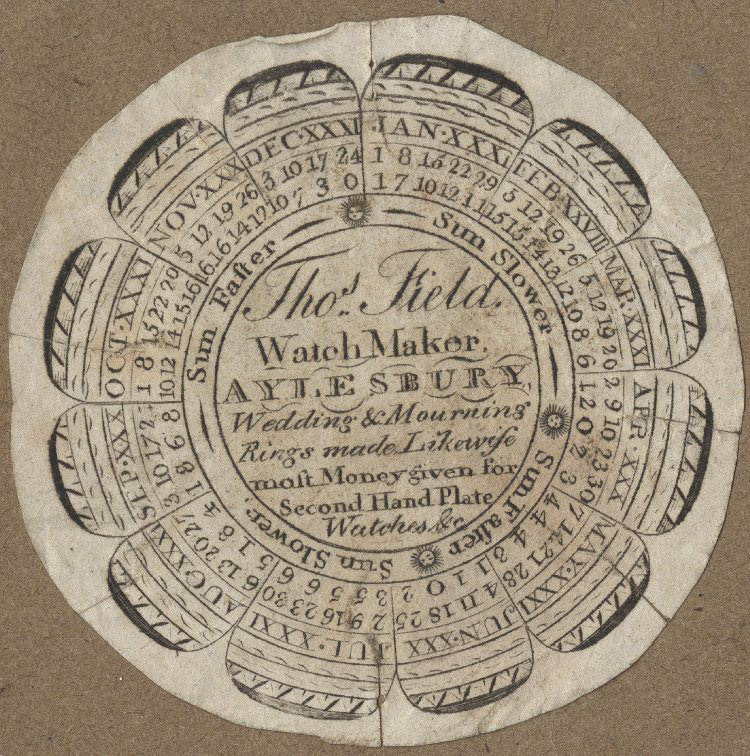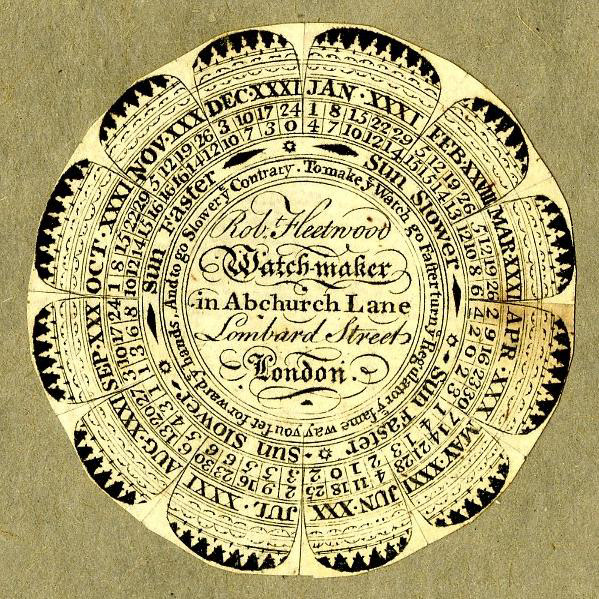 One of the  earliest recorded Equation Clocks was designed by the mathematician, Nicholas Mercator
(not Gerardus Mercator who invented the map projection),

and made by 
Ahasuerus Fromanteel
(whose son, John, bought pendulum technology from Amsterdam to London)
 "Next day, to the Royal Society, where one Mercator, an excellent Mathematician, produced his rare clock and new motions to perform the  equations..." wrote the diarist John Evelyn on 18 August 1666. 
This may or may not be the clock described in c) below
The clock was also described thus: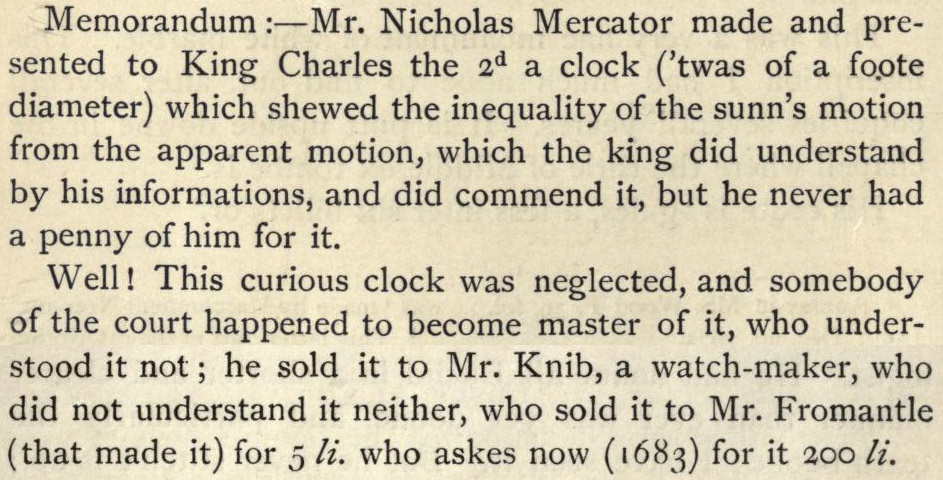 c) CLOCKS WITH A MANUALLY ADJUSTED HOUR RING

The first clearly known step in mechanically adjusting a clock was from Ahasuerus Fromanteel (1607–1693), whose son brought Huygen's pendulum technology from Amsterdam to London about a year after Huygens published his invention.
The widely publicised fact that Huygens invented the pendulum clock is almost certainly untrue. What he did invent is the crutch which connects the pendulum to the escapement. He also understood the circular error in pendulum, which eventually led the the adoption of the long seconds pendulum only swinging through a few degrees and the Clement's Anchor escapement.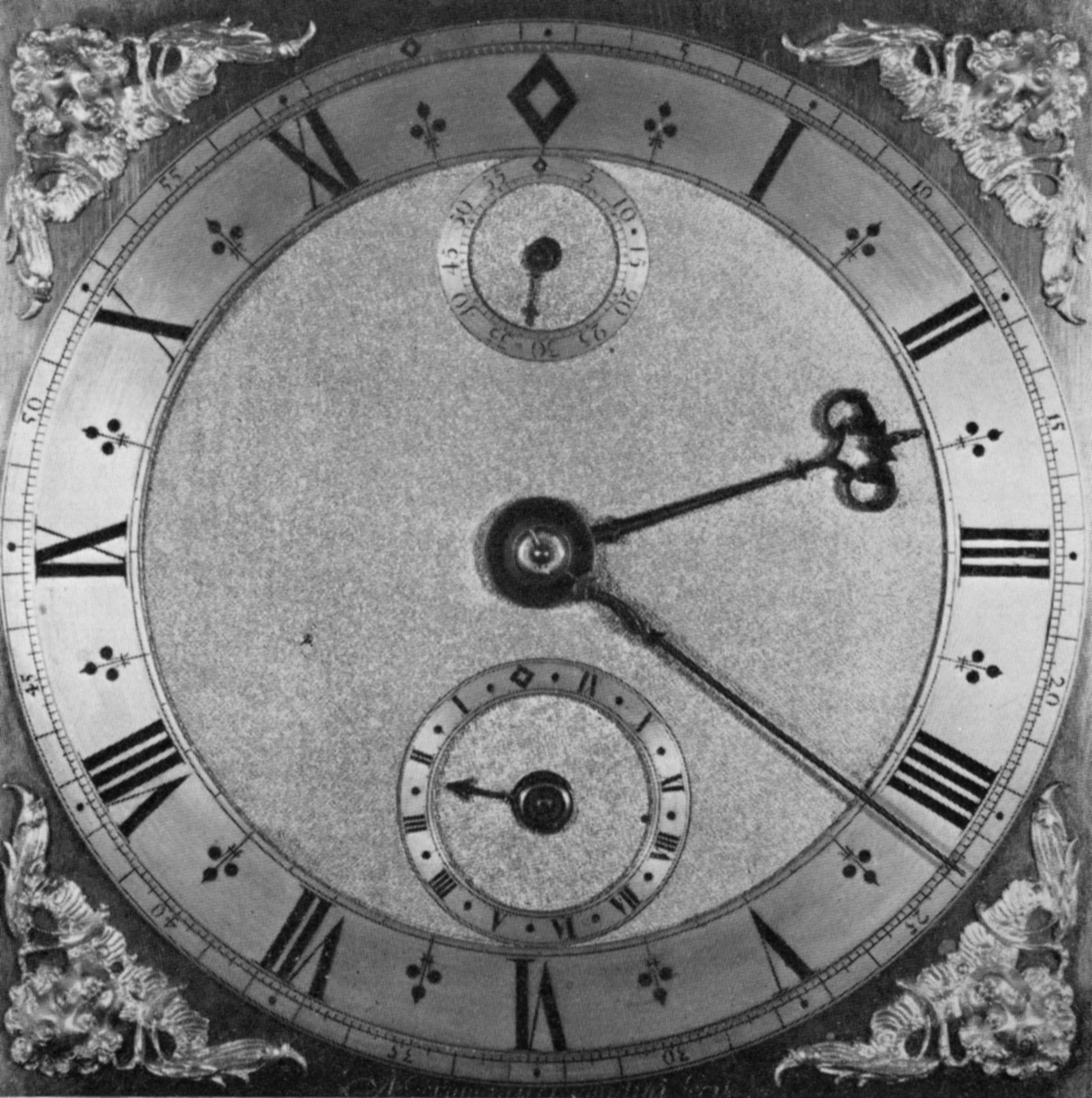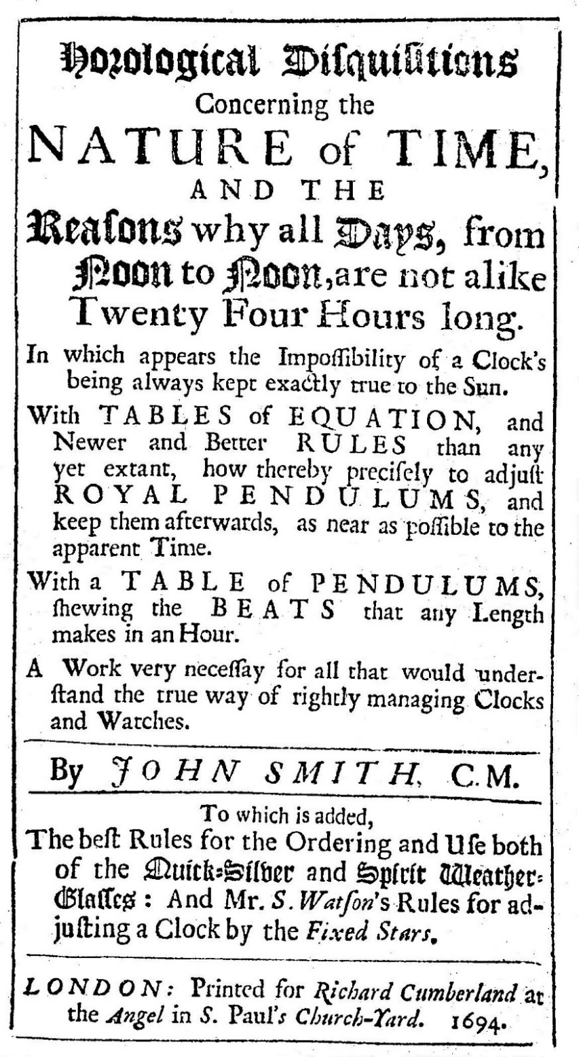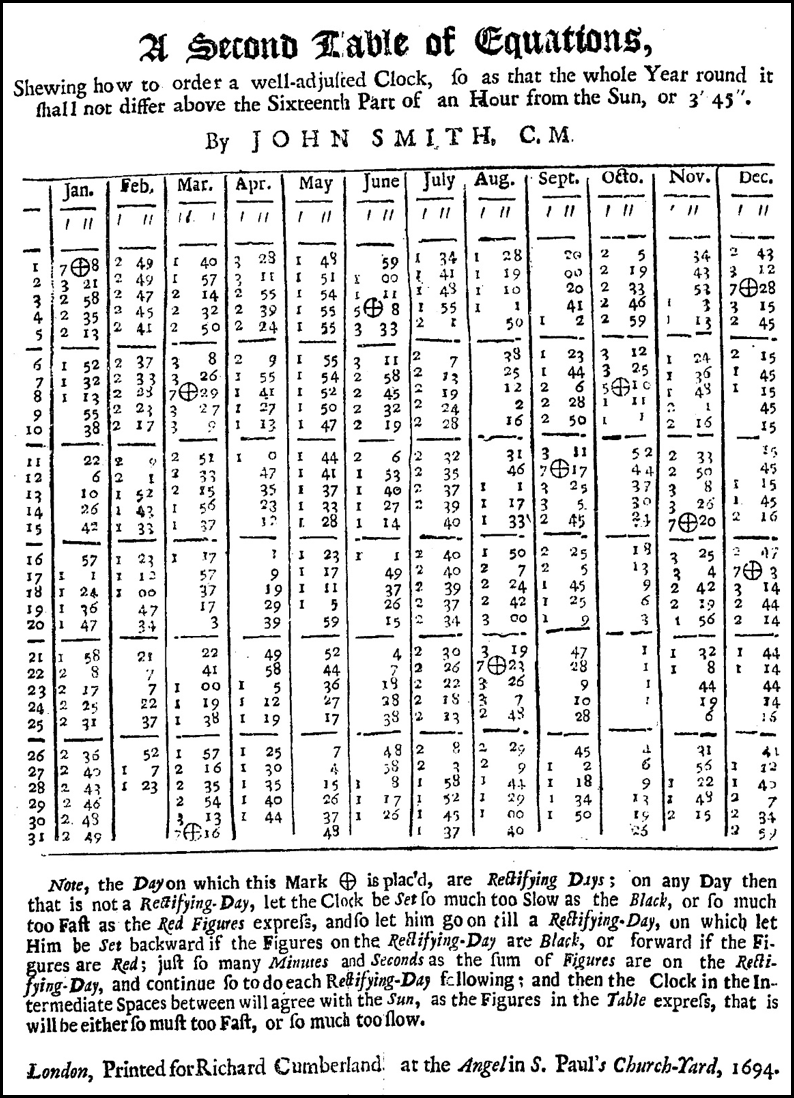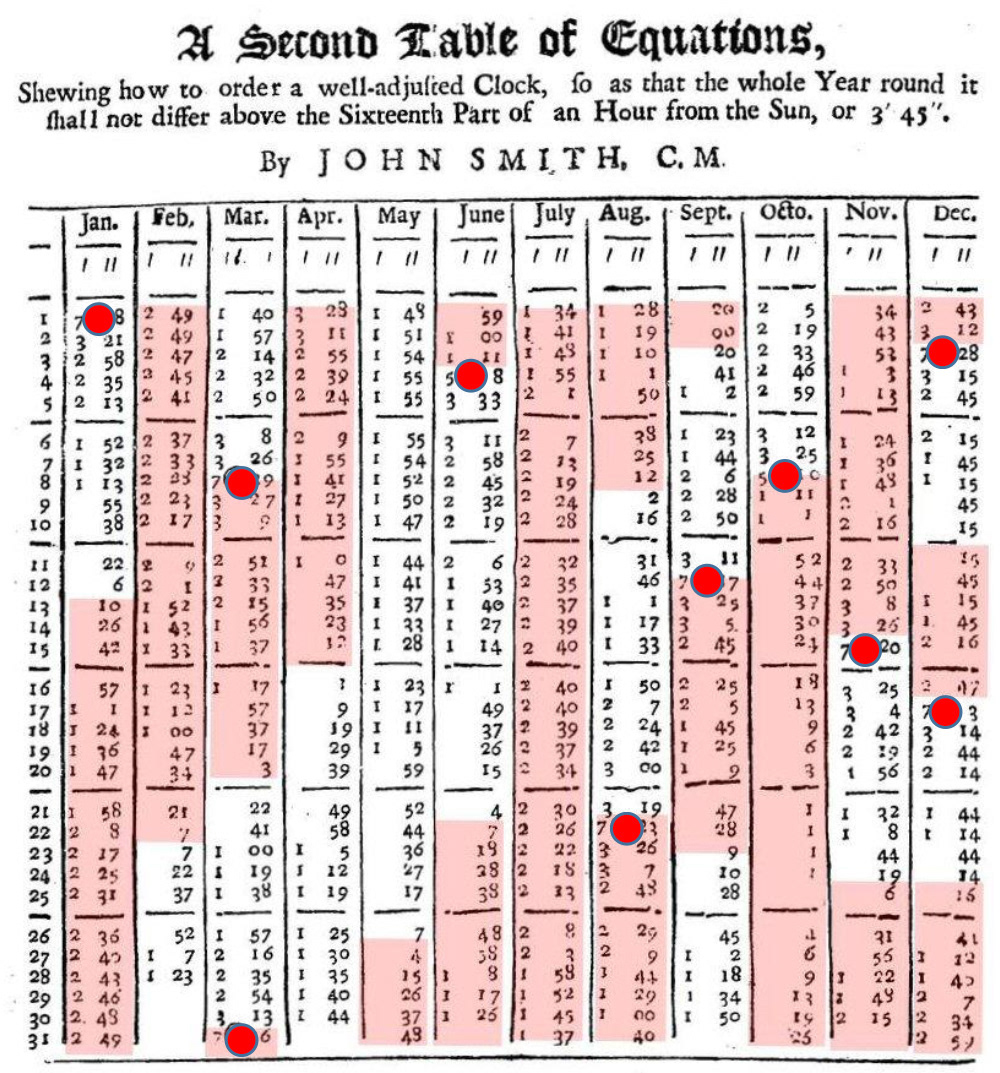 Smith's method, if applied correctly, would means one's clock was always with 3¾ minutes from True Time
Recent re-working of John Smith's ideas by Fred Sawyer give a slightly better picture - in Gregorian dates. On Jan 1st, one sets the clock to equal Solar Time and then offsets it back by 7min 9 secs, etc. (see below). The clock will always be with 3½ mins of Solar Time

e) VARIABLE PENDULUM LENGTH
Joseph Williamson - who worked for the famous clockmaker Daniel Quare, in the letter that follows suggests that he was father of all Equation mechanisms. The letter was written to  the Royal Society in order protect his name, He does however claim
"I have made others for Mr Quar(e), which showed Apparent Time by lengthening and shortening the Pendulum in lifting it up and setting it down again, by a Rowler somewhat in the form of an Ellipsis, through a slit in  piece of brass, which the spring at the top of the pendulum went through"
. 
Manual adjustment of a pendulum by moving the suspension spring through a slit was a common method used later to adjust clocks for temperature variation or wear & tear.

••••••••••• LOOKING FOR A PICTURE OF THIS MECHANISM •••••••••••